Posted by
Isaac
on Nov 28, 2012 in
Blog
,
Featured
|
0 comments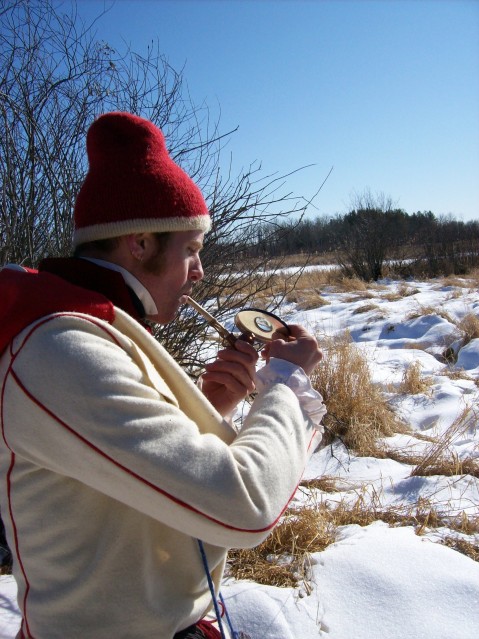 Minomaaso apaakozigan – That burning kinnickinick smells good!
I have been busy with a million things and on top of it, I have been a bit melancholy and unmotivated. This said, I would like to post some fun snippits from my most recent article in the Journal of the Early Americas. This article was on tobacco and smoking, but for this blog posting, I will just throw some fun things on Kinnickinic out there. For more on this subject, check out the JOTEA.
Something I stated in the conclusion of my article is that; for the living historian or reenactor today, although it may be easy to pick up a pouch of pipe tobacco at the nearest convenience store, perhaps we can take it a step further. One may wish to find a more correct tobacco and gather and process their own blend of kinickinick. In doing this, we can better taste, smell, and further experience our history. For me, one of the main reasons I do this is to experience and "live" the history.
Kinnickinick is simply and Ojibwe word for "that which is mixed" and refers to non-tobacco mix of plants (or a single plant) used for smoking. When mixed with tobacco, the Ojibwemowin word that is used is apaakozigan. Kinickinick was used by American Indians and white men in the fur trade alike as can be seen in some of the upcoming quotes.
In the following quotes and in my research, I have found only a couple of plants commonly mentioned as kinnickinick for common smoking (as opposed to some plants smoked for hunting lures or other charms). These planst are "red willow" (red osier dogwood), bearberry, and sumac. "Red willow" utilizes the inner bark, sometimes roasted. For bearberry, the leaves are smoked, as are the leaves of sumac (often picked in the fall when red).
Recently, I tried flavoring some with beaver castor as mentioned by Catlin. It was actually quite pleasant smoking and I think I will do this more often in the future. I believe that the castor gland not only adds flavor, but also some moisture to the otherwise dry mix.
And now… some quotes…
From Peter Kalm in 1749,
"In the northern parts of Canada, they generally smoak tobacco by itself; but further upwards, and about Montreal, they take the inner bark of the red Cornelian cherry, crush it, and mix it with the tobacco, to make it weaker" and… "… the French in Canada, in many respects, follow the customs of the Indians, with whom they converse every day. They make use of the tobacco-pipes… they mix the same things with tobacco…" Also… "The bear-berries grow in great abundance here. The Indians, French, English, and Dutch, in those parts of North-America which I have seen, call them Sagackhomi, and mix the leaves with tobacco for their use."
From Jonathan Carver's 1760s travels in the interior,
"Sumack likewise grows here in great plenty; the leaf of which, gathered at Michaelmas when it turns red, is much esteemed by the natives. They mix about an equal quantity of it with their tobacco, which causes it to smoke pleasantly. Near this Lake, and indeed about all the great lakes, is found a kind of willow, termed by the French, bois rouge, in English red wood. Its bark, when only of one year's growth, is of a fine scarlet coulour, and appears very beautiful; but as it grows older, it changes into a mixture of grey and red. .. The bark being scraped from the sticks, and dried and powdered, is also mixed by the Indians with their tobacco, and is held by them in the highest estimation for their winter smoaking. A weed that grows near the great lakes, in rocky places, they use in the summer season. It is called by the Indians, Segockimac, and creeps like a vine on the ground, sometimes extending to eight or ten feet, and bearing a leaf about the size of a silver penny, nearly round; it is of the substance and colour of the laurel, and is, like the tree it resembles and evergreen. These leaves, dried and powdered, they likewise mix with their tobacco; and, as said before, smoak it only during the summer. By these three succedaneums the pipes of the Indians are well supplied through every season of the year; and as they are great smoakers, they are very careful in properly gathering and preparing them."
John Bradbury who, in the early part of the 19th century, states, "I observed that, as before, in smoking the pipe they did not make use of tobacco, but the bark of cornus sanguinea, or red dog wood, mixed with the leaves of rhus glabrum, or smooth sumach. This mixture they call kinnikineck."
Zagaswaadaa!