Posted by
Isaac
on Apr 27, 2013 in
Blog
,
Featured
|
6 comments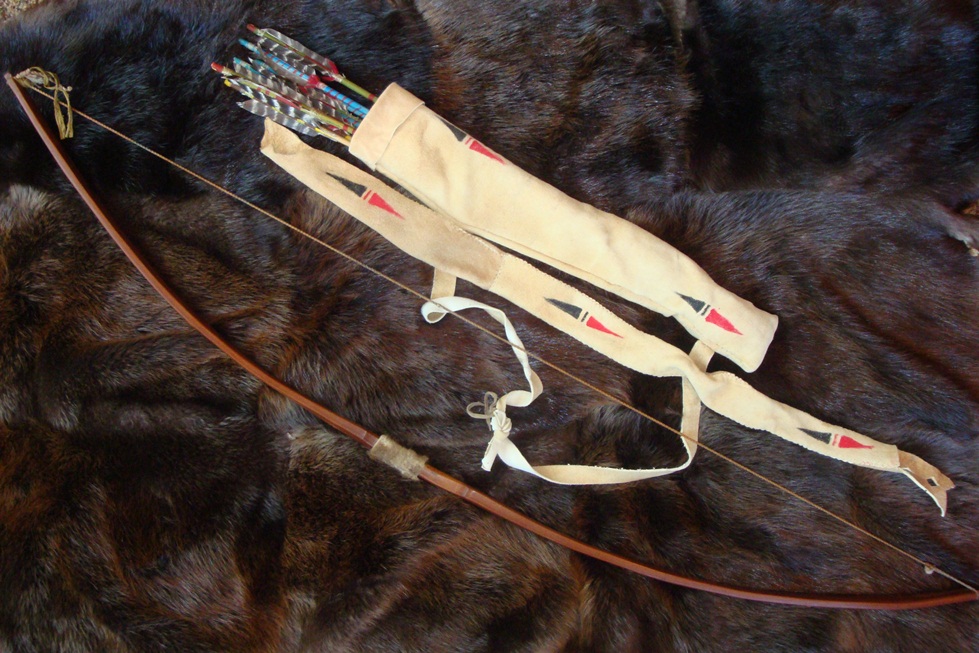 Since I was a young child, I have loved archery.  I remember watching my parents shoot bow (my mom even bow-hunted and shot a doe one year), and I would pretend while watching them.  I often would make my own bows from box-elder branches and string from feed bags.   As I got older (about 5), I took some hard earned money and bought my first bow.   I have been shooting bow for most of my life; and when I was 18, I made my first wooden bow. I have been playing with historic bows and arrows ever since.  Like most of the historic crafts I have taught myself, I am far from being an expert but I can make stuff that works.  My bows are not pretty, but they shoot well.
Although the French in Wisconsin did not really shoot bows, the various Indian nations here certainly did.  Even after the coming of the fur trade, many Indian people continued to use bows.  Too often, historians (or folks that like history) repeat the fallacy that when the gun came, the Indians forgot how to make and use bows.  Like a lot of the "Dependency Theory,"  this is false.  Michael Galban recently did a talk on bows in the east at the Woodland Indian History Conference in Pittsburgh, PA.  I was not able to attend, but knowing Mike, it was probably pretty awesome. Some day I will need to chat with him about this stuff.
Most of the bows I have made (that are adult sized) are sold off, and of them all… I only still own my first "real" bow, which cracked after 15 years and 1,000s of shots.  I still think I can save it by backing it, but I am not sure it is really worth the effort.  I am currently shooting an Osage Orange bow that is a repro of a Meskwaki bow from the 19th century.  I picked it up on a trade a few years ago and have been shooting it frequently since.  I have rebuilt the quiver that came with it to resemble a Dakota (??) quiver that was collected near St. Paul, MN and is in the Brooklyn Museum (Jarvis Collection).  I am really hoping to make myself a new bow this summer as I want to be shooting one of my own again.  I also would like one that is not as hard pulling.  This Osage Orange bow is about 60 pounds.
Meanwhile, I have been teaching my girls to shoot.  Last year I built them a small, Black Locust bow and some arrows.  They are getting pretty good.  I also built a slightly larger bow out of ash that Noelle will start using this year or next.  We are all having a lot of fun with this.  Here a Lily shooting her bow the other night.