Posted by
Isaac
on May 29, 2013 in
Blog
,
Featured
|
5 comments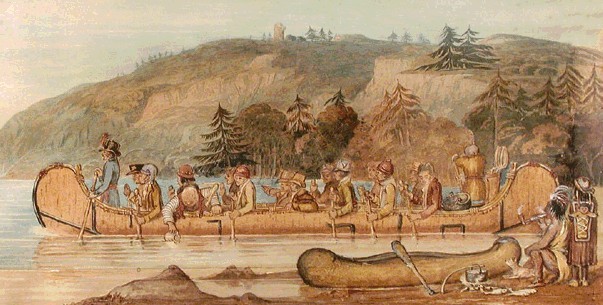 I have said many times before that I do not like the act in reenacting.  Much of the reason why I do this "hobby" is for the experience of the history.  This said, it has been too long since I have taken a good voyage in canoe, immersing myself in the history.  I paddle many miles in canoe every year, but I have been craving a real solid historic experience.  This summer looks to appease this desire, both in nature of the the trip we have planned, the location of the voyage, and the level of authenticity we are attempting.
Last summer, my good friend and "brother," Gene Tesdahl decided that we needed to have a little outing with our good friend Mike Kahler (the three of us known as the "Bad Dogs" to some due to our past times together in historical settings).  It was decided that we should do a little jaunt in canoe.
We will leave from a quality historic event at Forts Folle Avoine, the rebuilt XY and NWCo posts on the Yellow River of NW Wisconsin.  The plan is to then travel to Sayer's Post (reconstructed NWCo post) on the Snake River of MN.  This will be about 50-60 mi. with some of it up river.  We hope to be able to do this in 4 days.  This is not an impossible distance but will take some long paddling days and sweat.  Much of the Yellow and St. Croix are "quiet water" with occasional stretches of rapids (class 2 and if water is high, class 3).  The real issue will be whether water levels will allow us up the Snake River as there is a dam at Pine City and a good stretch of the river below the dam is not navigable in low water conditions. When water is high enough to make it passable, it will be paddling up a fast current with a series of rapids.  If water levels are low, we will simply continue down the St. Croix instead of heading up the Snake.  This is not as cool, but will have to do considering our time and modern issues of the dam.
The year will be 1805 and our scenario is  that Joseph DuChene dit La Prairie, wintering clerk for the NWCo at Yellow River Post, has an urgent message that needs to be sent to John Sayer, wintering clerk for the NWCo at the Snake River Post. LaPrairie chooses 3 of his most trusted and skilled men to paddle an Indian canoe as an express canoe to deliver this letter.  If the St. Croix route is opted for over the Snake… our reason will be that we gained knowledge that Sayer was not at the post but trading/visiting an Ojibwe village further down the river.
Planning for this trip has been long underway and we will be taking my bark canoe and only gear and food that we deem correct for NWCo men in 1805.  We are travelling light due to the nature of our endevour.  Our provisioning will consist of a sack of wild rice, two small taureaux ("envelopes" made of bison rawhide) of pemmican,  some biscuit (ship's bread/hardtack), and a small bark container of tea (a luxury).  We will also be bringing a case bottle of rum.  This is a luxury as well, but historically would be payment and incentive for a quick but hard and very important voyage the clerk is sending us on.  We are also considering a small wooden keg of homebrew beer (I have a few scant references to such).  This is to be in celebration of la fête de Jean le Baptiste which will be the Monday of our voyage and is an important holiday to les canadiens.  Historically, extra spirits were often rationed out to "the men" during such important holidays.  When holidays were worked over, extra incentive was also given or time off given later as a sort of "comp time."  If things go as they should, la fête de St. Jean will also be celebrated after a LONG day paddling and the night when we reach the Snake River.
Anyway, this looks to be a grand adventure, and although a short jaunt; it should be a nice immersion experience in history and a truly historic voyage en canot.