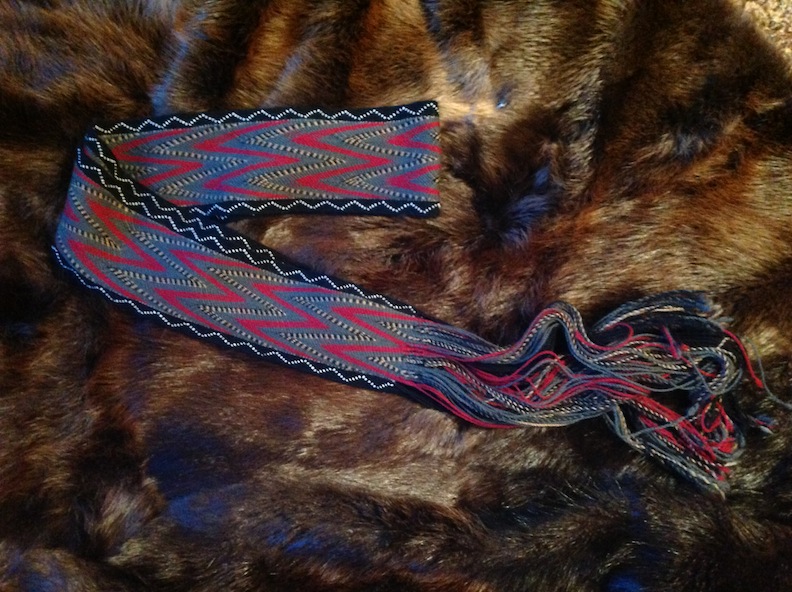 I have been wanting a bit fancier of a sash for awhile, especially considering that I now am doing a lot of 1790s-1810s period stuff when finger-weaving really got amazing.  I have owned a number of sashes over the years and have not been fully satisfied with most historically.  I have settled into a couple all red, fairly plain finger-woven sashes.  My main sash is a simple red sash with a few white beads woven in that was made by Nathan Kobuck.  The other (which I now recently sold) was a simple all read sash fingerwoven by Irene Rogers.
After seeing Tom Conde working on sash last year at Grand Portage I was hooked and knew that I needed one made by him.  For those that do not know Tom, he is an AMAZING fingerweaver and his patience with yarn is mind blowing.  Click on his hyperlinked name or here to see his website.
The sash he was figuring out and working on that weekend was to be his rendering of a sash (one of a few) collected by Lt. Andrew Foster in the 1790s.  Foster served with the British Military (24th Regt. of Foot) and was stationed in Michigan.  While stationed in the Western Great Lakes, he collected a number of items from the area and a bit further west.  To me, a sash like this would be the ideal fancy sash for my period of interest.  Watching Tom work with the super fine yarn was fabulous.  Luckily, due to others not snagging this sash up and me trading and selling off all my 17th century clothing, I was able to get this sash, almost a year later.
As for sashes, there is a lot of information on the commonality of sashes for canadiens and for voyageurs.  Peter Kalm mentioned (in 1749) the use of native style sashes as one of the elements of native culture that was universally adopted by canadiens.  The use of sashes, and by the 1790s multi-colored sashes, is very well documented.  The following quotes and images are some of the few things I looked at when making the decision of my sash.  I have to thank my great friend, reenactor, and researcher, Karl Koster for digging up the majority of these quotes.  SO… some fun quotes showing fancy sashes and the value of them.
"…one of them stole a Ceinture of Cadottes, which he missed not until they had been off near two hours, he took his Gun and Snow Shoes with an intention of persuing them all day but he overtook them before noon, &. Threatened to shoot one of them if he did not tell him which of them had stolen the Belt, they restored the Sash &. Proceeded quietly on their journey."
~ Archibald McLeod, Fort Alexandria, 1801 (Gates, 159)
"…they are proud dressy fellows in their parti-coloured sashes…"
~ J. Bigsby, 1800s, Montreal (Bigsby, 132)
"most of the [Native] females are working the worsted sashes which are worn by the Canadians; these are very ingeniously woven into an arrowhead pattern, occasionally with beads intermixed, and made solely with the hand and are sold to the Montreal storekeepers."
– John Duncan, 1818, Montreal (Hanson, 4)
"The costume of the Canadian farmers…fastened round the waist by a party coloured worsted sash…"
~ Col. Landmann, Quebec, 1798 (Landmann, 267)
"Smallest white beads for sashes…Poste des Chats…"
NWCompany, 1800, (Barbeau, Assomption Sash, 12)
" a pretty arrow sash fastened around his body…"
~1797 a drowned NWCo voyageur below Montreal (Barbeau, 1972, 20)
"…two arrow sashes were listed, in 1798, in the inventory of the Montreal fur trader Chaboillez."
~ Marius Barbeau, Assomption Sash, page 20