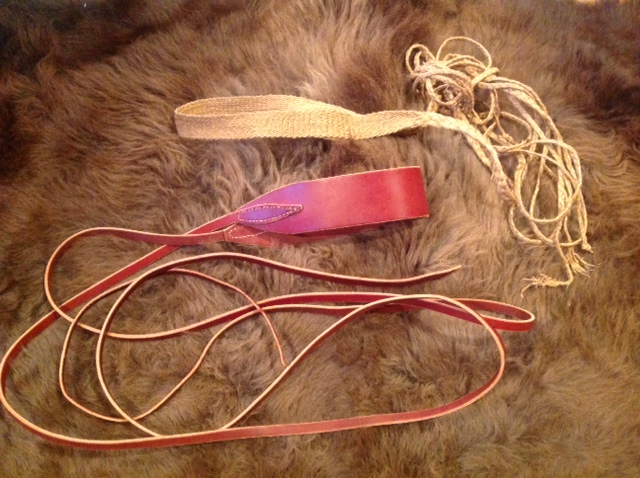 The tumpline is one of those basic straps for hauling burdens that has been used for centuries.  A simple strap has been used by many people historically (and prehistorically), but the use of this strap on the forehead seems to be a concept indigenous to the Americas.  As Europeans, especially the French, came into North America, the tumpline became yet another technology borrowed from the American Indians, just like the canoe, toboggan, snowshoe, etc.
The word tumpline is derived from the New England Algonquian word, mattump (similar to the Abenaki term madumbi but very different than the Ojibwe apikan).  Many other terms have also been used for these.  In French, the most common terms were collier a portage or collier a porter.
Tumplines were historically made of a variety of materials.  Native peoples sometimes wove them of vegetal fibers.  They were also made of leather and perhaps linen.  The Montreal Merchants' Record Project has all three of these listed for the early to mid 18th century.  Linen is mentioned in numerous places, usually looking something like "toille a collier."  Many of these in the records are leather and many shoemakers were hired to produce these for the fur trade, although records from 1735-49 show the majority of the tumplines/colliers to have been made by native women.  These may have been leather or woven.  Here is a sampling of some of the entries in the MMRP:
1 au de toille a colier – 1734

1 pce toille a collier – 1767

1 1/4 aune toille a collier  – 1774

Paid to Alexis Charlan, shoemaker, for making 182 tumpline @ 6s a piece – 1744

Interestingly there is also a record of Pierre Biguez, an engage hired to the Illinois, who supplied 30 leather tumplines to Moniere prior to engagement.
I have two reproduced tumplines that are my "go to" burden straps.  The first is one that Michael Galban wove of basswood bark fiber.  I have had this tumpline for somewhere around 12 years and it is still going strong.  In spite of hauling many loads (some very heavy, as much as 180 pounds), being used to pull toboggan, and even being used as ropes for setting up tentage; it shows very little wear other than the tips of the traces being broken off (I plan on braiding in some more bark eventually).  The second tumpline is one I recently acquired from my good friend Jai Mather.  Jai has been making some REALLY nice reproduction leather tumplines lately and I have been wanting one as I believe these are the most common form of tumpline.  Jai's are made of harness leather and are built based on a number of originals in collections.  This is the style that native women may have made and would certainly be like those made by the shoemakers of Montreal.