Posted by
Isaac
on Dec 6, 2013 in
Blog
,
Featured
|
8 comments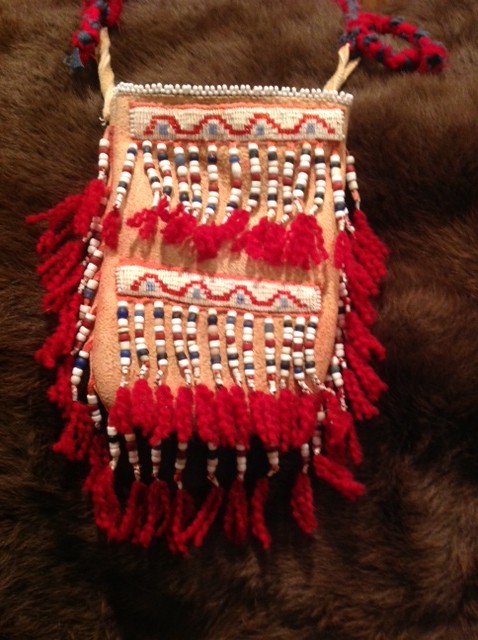 After many years of trying to decided upon a bag, I finally made a keeper.  I have always liked the looks of the panelled bags that were common with the Cree, Northern Ojibwe, and Metis; but the thought of making one of these bags has kept me away.  The quintessential panelled bag is one with loomed quill panels, a technique of quilling that screams North West but a technique that I did not know.  Some bags were made with the zigzag technique that I know well, but these just did not seem as cool as an actual loomed panel.  For years this bag has been on the back burner.
A year and a half ago at Grand Portage Rendezvous, my friend Lee Nelson gave me two ice cream buckets full of porcupine quills that had belonged to our friend Mary (Benakwe) Vanderpohl who had recently "walked on."  I instantly knew that I needed to do something special with some of these quills.  I had known Mary for many years and our discussions ranged all over but often we chatted about our shared love of fur trade history, interests in natural cordage and dying, hunting, and trapping.  I have many found memories of being up a bit earlier than others and chatting with her by the fire with a cup of coffee.  I decided that I needed to take some of the natural dying that I have been playing with and dye some quills so that I could finally make this bag that I have been putting off for years.
The quills were dyed with galium for the red-oranges and indigo for the blues.  I figured out the looming technique enough to get two small panels made. These are not amazing works of art, but I am not the awesome quillworker than many others out there are (Oles, Galban, the Breviks, Webster, Taylor, etc.).  They are simple and small, which was good for a start but also seems the norm on the earlier bags from the 18th and EARLY 19th centuries.  As time went on, the panels got larger and more elaborate.  I then got some beads from Jeff Plath and went to work on the bead and wool fringe.  The bag itself is brain tanned deerhide and the fringe is the same hide, stained with vermillion.  The ends are unravelled, red wool (I know someone with yarn scraps) and are wrapped with natural quills.  the inside is lined with some printed cotton and the top is bead edged.
Currently I have settled with a simple strap.  I have been planning on something more special for the strap and started one like in an Ojibwe strap that was/is in the Warnock collection, but I can not get the quilled plaiting on the nettle fiber cordage as nice as I want, and I have been impatient (deer season IS here and it is time to use the bag).  I have a few other ideas, but I may get back to the Warnock strap eventually.