Posted by
Isaac
on Jan 28, 2014 in
Blog
,
Featured
|
4 comments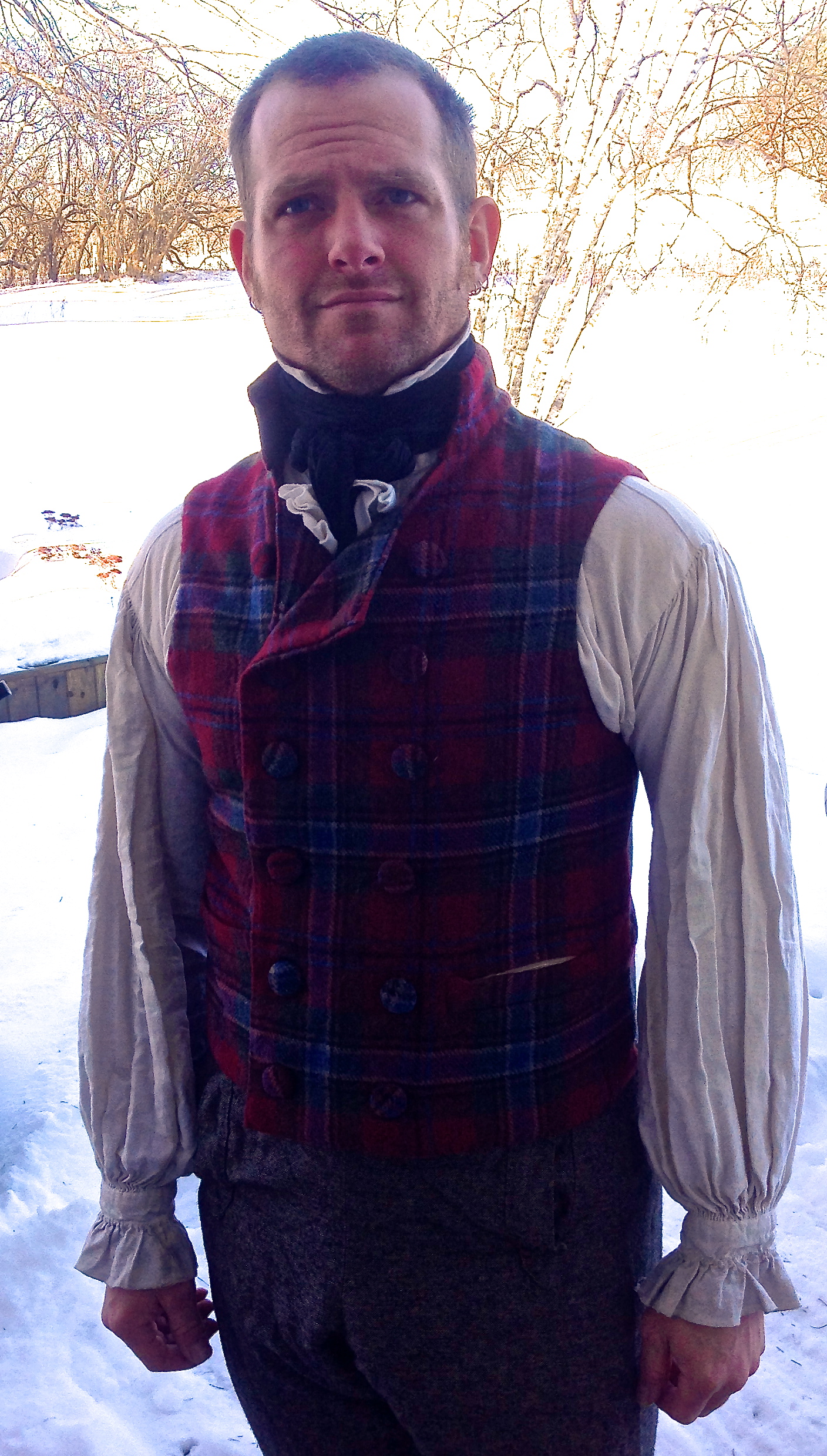 Well, the "Polar Vortex" shifted and this means another two days off of school.  Regular temps are only -10F or less this time around with windchills down around -30 or so.  Not too bad and certainly warm enough that I was allowed to get out and snowshoe a bit.  I also got out (on snowshoes as we have over 2 ft. of white) and cut a bunch of fir boughs for bedding in the tipi.  I am having a few friends over this weekend to camp out, visit, hunt a little, and be historic.  This bedding will make for a comfy and warm lodge.
With all this cold I have been pushed to make some more warm clothes (the real topic of this little blog).  These warm clothes are especially needed because one of the attendees of the winter camp this weekend doesn't reenact and I am outfitting him.  What a great way to be inducted into the world of historic reenacting… a winter camp out!!  Days off of school work well for having more sewing time as well!
For new sewing, I finally got a tartan waistcoat made.  I have been wanting to build one for quite some time.  Although tartan garments are not very common in North America, they were fairly common in Scotland.   I have been wanting some more Scottish flair that could be shown somewhat subtly when portraying a wintering partner of the NWCo.   Under layers, not much of this waistcoat will show but it will be a nice little flair; certainly not as over the top as a full outfit of tartan (like one of the MacGillivray boys was portraited in).
Another item that I have read about a number of times and have thought about doing is adding old stockings to a waistcoat to make sleeves.  Reading many times, has not had enough impact on me to go forth and get this done.  Cold weather and then seeing a photo of Jay Howlett wearing a waistcoat with stocking sleeves was more than enough; and the same day as I saw the photo, I was sewing a pair of stockings to an old wool waistcoat.  Thanks for the motivation, Mr. Howlett!   The stockings were an old pair of ribbed stockings that were either frame-knit, or flat knit and sewn up to look frame knit.  I have had these for 15 years but after darning holes, wearing through the darning, darning again, and making even newer holes; these stockings have been sitting, unworn.  Now they will be worn as sleeves and what is left of the feet will become socks for my daughters to wear in their moccasins.