Posted by
Isaac
on Feb 3, 2014 in
Blog
,
Featured
|
7 comments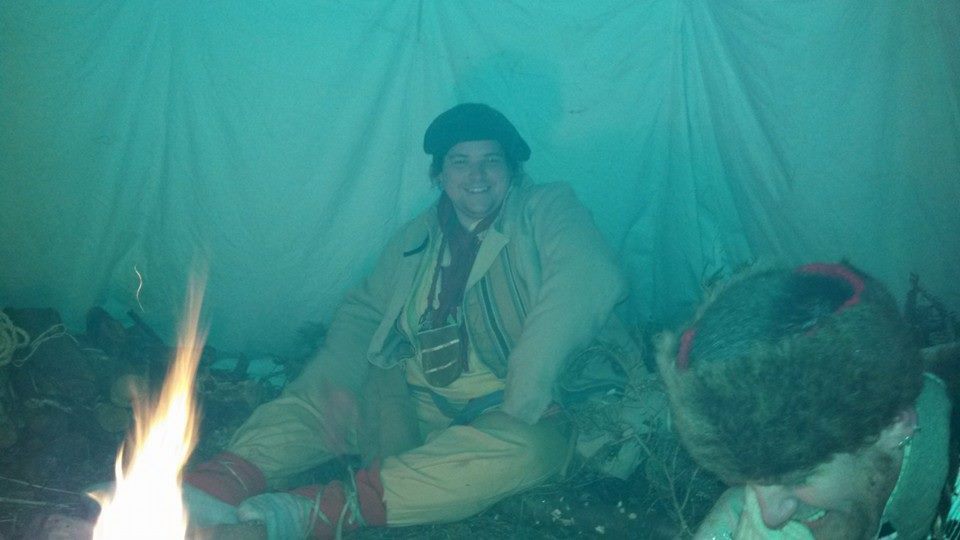 This past weekend, some friends and I headed out to the tipi for a weekend in history.  The annual Hivernants du Perrault winter voyage is once again out of my reach so it was decided that I needed to do something else to get out in the winter for a couple nights.  This also worked in that I have been wanting to spend a couple good winter days in the tipi I had gotten from my Uncle Ken.
I contacted a few friends and a few decided to come on over.  Among our merry crew we had myself, Erick Shelley, Jeremy Kingsbury, and Bryce Anderson.  Bryce had never reenacted or done anything quite like this before but is a very active outdoorsman and has a love of history as well.  I outfitted him with proper clothing and equipment and gave him a "trial by fire" or perhaps more appropriately, a "trial by smoke."  Bryce and Jeremy could only come out for Friday night and Saturday but Erick and I had time to spend through Sunday.
Everyone arrived Friday night and we quickly packed toboggans and got ready to head out into the night.  The night was clear and the sky fairly bright, so we were able to fairly quickly work our way back to the tipi.  Although the snow was 24-30″  and snowshoes were a help, the trail was fairly packed from all the back and forth I have done in the past to the tipi and those without snowshoes could manage if they stayed on the trail.  Upon reaching the tipi we piled in and went to work starting a fire to at least provide light inside.  Being not the best prepared, it took about 10 minutes to get situated and get a nice fire going.  Once going, we packed in our gear and bedding.
Within a very short time, we realized that the tipi was not drafting and was becoming a big smokehouse.  With all the snow we had, the tipi was half buried and no air was getting under it to create any good draft.  We did find that opening the door allowed for a good draft but also negated much of the heat the fire was producing.  The fire did allow us to melt down some snow for water and gave us light for the night.  Plenty of visiting and conversation as well as smoking of pipes took us into the late night.   We let the fire then burn down to a few coals (so that it would go out and not smoke us out), shut the door and went to bed.  Temperatures during the night dropped to -9F (-23C).  Although a bit cold, this is fairly warm compared to a lot of the temperatures we have been having recently.
Morning came, fire was started back up, coffee made, and we started to have a breakfast of bacon and venison/wild rice sausages.  After more visiting, Erick and I walked Jeremy and Bryce out (around noon).   Upon returning to the tipi, Erick and I took snowshoes and started shovelling out the tipi to get to the base of the tipi and get the draft flowing.  Once that was done, the issues of a smokey lodge were solved. We then rekindled the fire, melted more snow, and ate a few more sausages for lunch.  With a good supply of water melted, we started a kettle boiling with a bison heart and some wild rice.  We then left it to simmer while we took a walk on snowshoes.  After returning from a nice little hike, we decided to do a little competition of shooting.  Our "shooting at marks"  really did not prove either of us to be greatly superior to the other but was good fun.   This day's temps reached a high of 19F (-7C).
Evening came and we dined on our soup of bison heart and wild rice, which proved to be very tasty and filling.  We visited and smoked pipes for awhile and retreated to our blankets for the night.  Temps were warm for the night, only dropping to  5F (-15C).
With morning came rekindling the fire again, more coffee, and an eventual packing up of our gear.  We made the short trudge back to the house and ended our time leap.  Overall it was rather short and simple, it was a nice little venture into the past.  We did not do anything too strenuous, we did not travel far, we had the luxury of a nice tipi in which to stay, and temperatures were reasonable (of course all of these are relative concepts), but it did give us an escape from the modern day and a bit of a taste of the past.
Here are a few photos.  Neither I or Bryce had cameras along and Jeremy's was lost in the snow.  These are courtesy of Erick and are from the first night.  We are in a VERY smokey lodge but still having some fun.