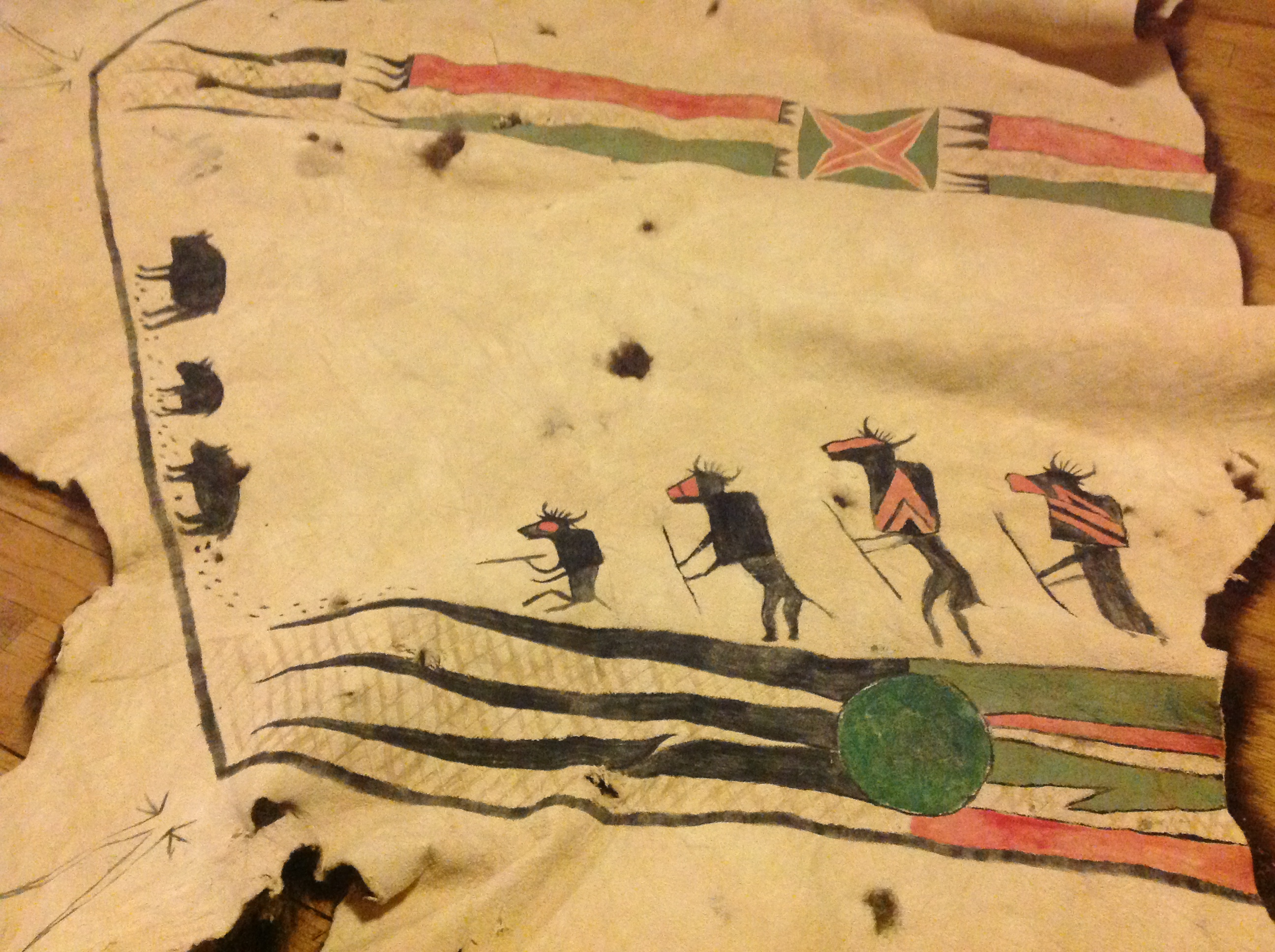 And I am painting again.  A bit over a year ago, I received the gift of a raw bison hide from my friends Chris and Carol Cheney.  Chris had recently returned from Ft. Belknap, MT and had been bison hunting again.   Having, over the years, shot somewhere over a dozen bison, I had mentioned that if he was full on robes, I would be happy to take a hide off his hands.   I fleshed and dried the hide.  I then used the the back 1/3 of the hide for some parfleche needs while the front 2/3 ( being the furriest) would do well for sleeping on , covering up with, sitting, etc.  That bit of the hide I then sent to Moyle's Tannery to be tanned.
This fall, the hide returned with a few other hides that I had tanned.  It is a nice bit of bison and I decided to paint it as a robe.  I figured it would look good to paint it as if it had been a full robe that had, later in its life, been cut in half.  I took the image of an old robe in the Musée du Quai Branly (Paris) as inspiration and changed up some of the images to more fit some events in my life.  
I changed the deer hunting scene to a bison hunting scene and added a horse to it.  When I was hunting out on Ft. Belknap a few years ago, there was a horse running with the herd that has some interesting stories and meaning to it.  I also changed the birds to eagles.  On my wedding day, a number of our guests saw two mature bald eagles in a tree as they were leaving our wedding.  This would be a nice reminder/commemoration of that.  I chose to keep the bears as I really like them and they remind me of the mama grizzly and cubs we saw in Canada on our honeymoon.  Finally, I chose to go green instead of blue for one of the colors.   I had some verdigris that I had made, and I have always liked the red and green robes that I have seen.
Anyway, the hide looks good and will be a nice addition to the bedroll or camp.  It will also serve as reminder to good times.  Additionally, if any of my readers have bison robes that they would like painted, I enjoy doing the painting, have more pigment and hide glue, and I would be happy to hire out my painting services.