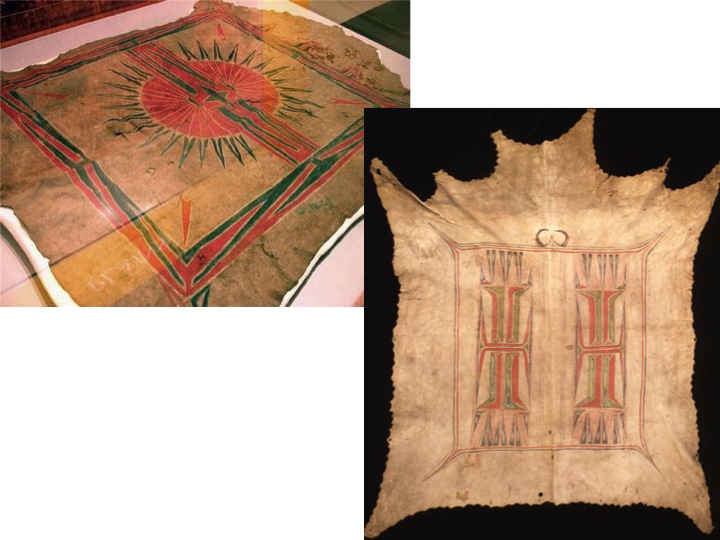 In a few posts, I have highlighted bison robes that I have painted (one, two, three).  I have decided that it might be nice to show a bit more information, or at least some images, of original robes.  
As I have mentioned in the past, bison were here in Wisconsin historically, and both natives and canadiens here in Wisconsin were using bison hides for bedding and warmth.  Looking a little further south, a friend posted a blog with some nice research on bison robe usage by habitants in the Illinois.  It is also pretty well understood that bison robes were brought back east for use in Montreal and Quebec.  The Montreal Merchants Record Project mentions Illinois bison hides being brought in and sold by the merchant, Moniere as early as 1715.  An interesting 1780 drawing in a German soldier's diary from Canada shows a wonderful painted bison robe being used for a sleigh (cariole) blanket in Montreal.  This not only shows a bison robe in the east but also its use and what it looked like (painted even). It should be additionally noted that bison were not the only furs painted.  Caribou, deer, and beaver robes were also painted and used in Canada and the Great Lakes.
For someone interested in painted bison robes, especially early ones, the book Robes of Splendor by George Horse Capture, Anne Vitart, et al. is a fabulous book.   The book looks at robes, how they were made, their use, and highlights a number of early robes from French collections.  These robes are currently held by the Musée du Quai Branly and can be seen in their online collections.  The following are a highlight of a few of these early robes.
There are also many other extant robes out there of varying styles.   These can be seen in museums and collections as well as online.  Here are a few selected images that I find interesting.