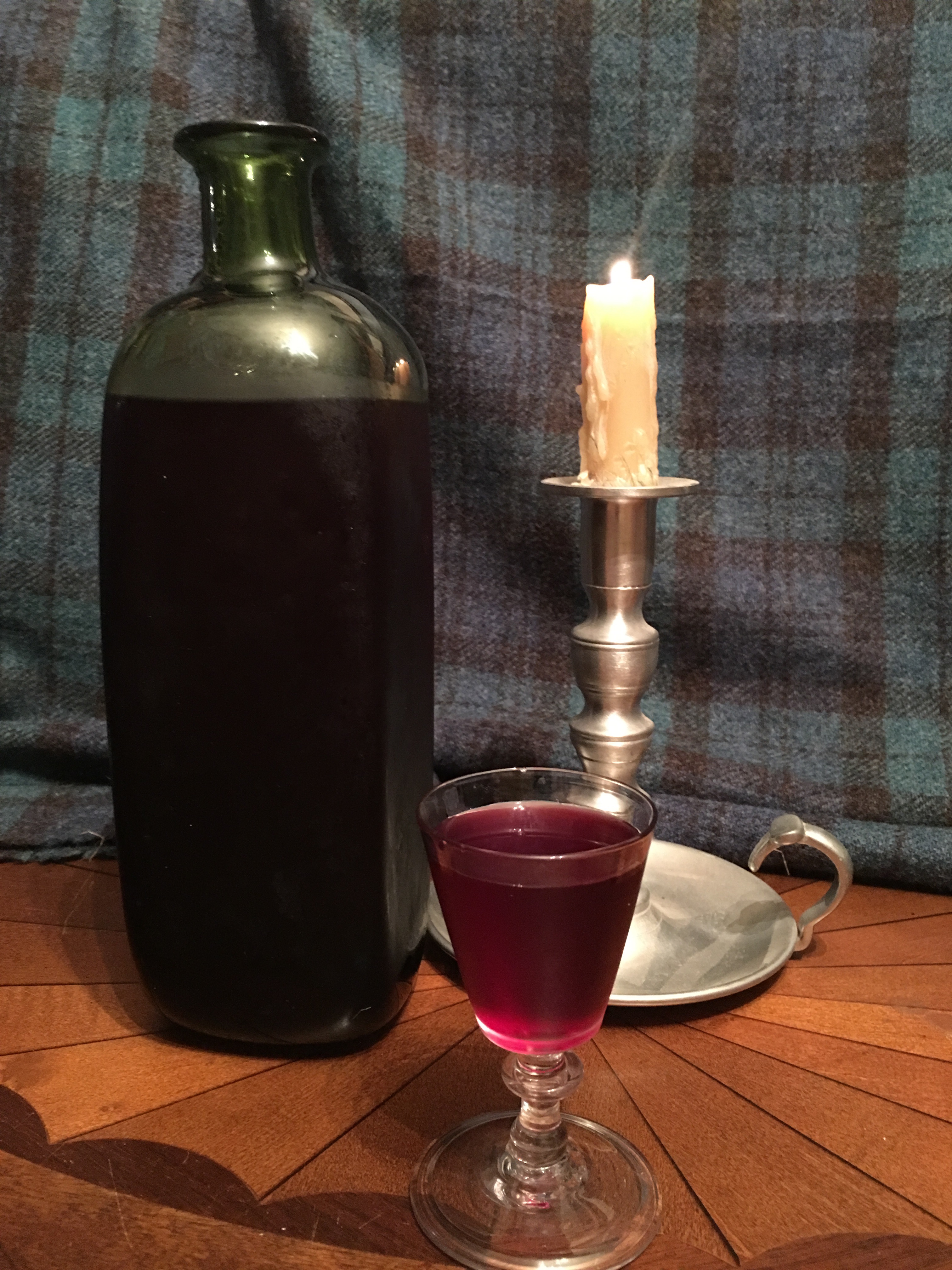 While at Grand Portage this year, Rob Stone treated me to a glass of his homemade Blackberry Cordial.  It was delightful!  When inquired, he stated that the recipe came from an 1840 French-Canadian cookbook titled, La Cuisinière Canadienne.  His daughter, Elizabeth, had recently translated the entire book and this particular cordial came from it.  He shared the recipe, and I stored it in my memory (mostly, I had to ask Elizabeth a couple details this past week).   Later the next day, I recalled the following quote from Elizabeth Baird's memoirs (O-De-Jit-Wa-Win-Ning or Contes Du Tempts Passe) from early 19th century Wisconsin.
"Our drinks for our parties were mostly home-made, such as currant wine, cherry bounce, raspberry cordial, etc."
As I returned home, our blackberries were past ripe, but the elderberries were in full ripeness.  I decided to use them.  Basically, I put them in jars, covered them in brandy (Rob used rum), and let them sit for a week.  The flavor and juices mixed with the brandy and the color faded from the fruit.  I then strained it through a cheese cloth and strainer.  Meanwhile, I took an amount of sugar that was about equal to the amount of elderberries I used.  I added a small amount of water and cooked it down to a simple syrup.  I then added the flavored brandy to the hot syrup and let it heat enough to blend together and kill any bacteria (but not so much that it cooked off the alcohol).
All of this made a wonderful and historic cordial that would be totally correct for the French in Wisconsin.  On a side note, Elizabeth will be presenting on the topic of this cookbook and her project translating the book at this years NAVC Gathering.  This is a great gathering of people and a fantastic set of lectures and workshops.  This year it will be held in Poynette, WI.