Posted by
Isaac
on Mar 22, 2017 in
Blog
,
Featured
,
Odd Stuff
|
0 comments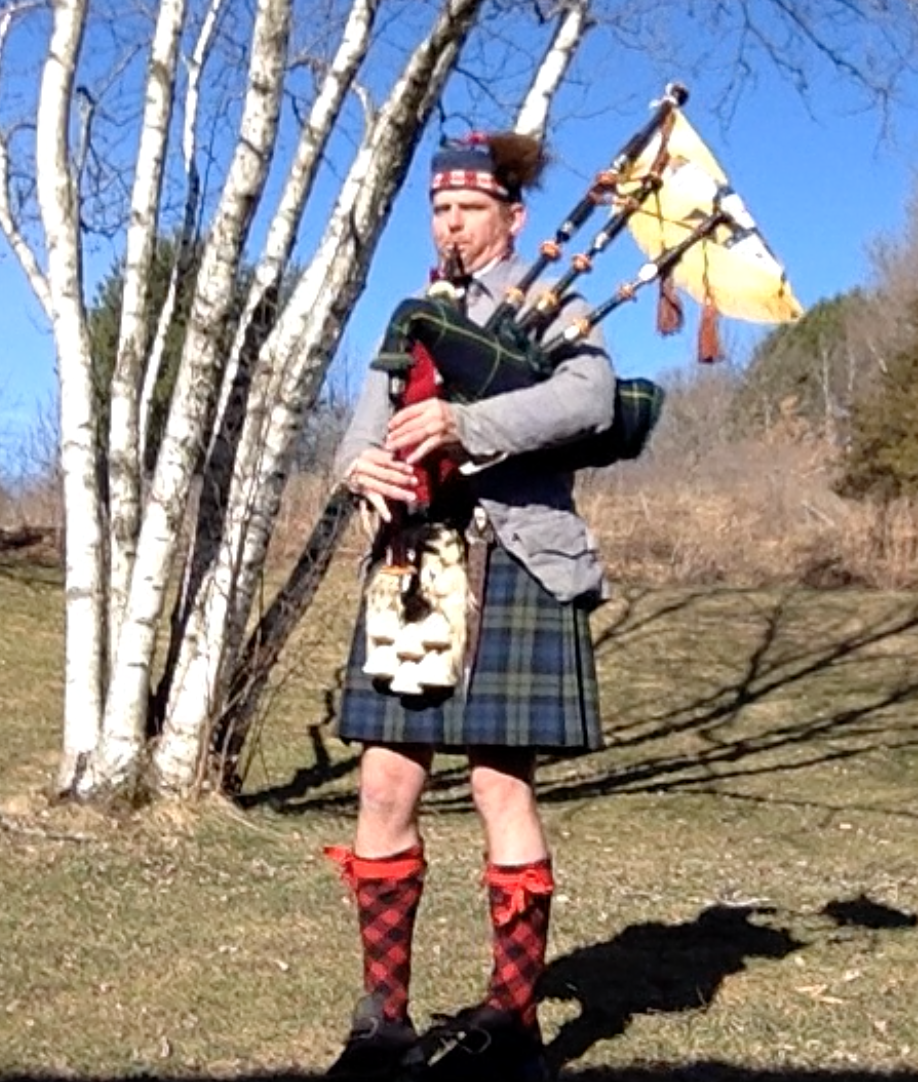 For quite a while, I have had an interest in bagpipe banners.  Maybe it is my love of bagpipes.  Perhaps it is my interest in heraldry.  Maybe I am just odd.  Anyway, as a historical event recently contacted me, asking for me to portray a historic piper for the NorthWest Co., I decided to make a couple conjectural banners to use as interpretive tools.  
We know that there were bagpipers present in North America, working for the NWC0 and/or its owners.  My good friend, historian, and piper, Jeremy Kingsbury has done considerable research on this topic (perhaps a future blog posting if I can get Jeremy to write it up, or give me permission to write it up based on his research).  The question of whether these pipers would have had any sort of banner is unknown.  If they had, what they would have looked like is also unknown, but we can take a number of pieces of information to put together a possible and relatively correct banner that COULD have been used.
Usually pipers were not from a company or even a regiment (until late century) but were pipers for an individual (often an aristocrat, officer, etc.).  Bagpipe banners usually had the individual's arms and crest displayed.  As regimental pipers start to become more official within the structure of the British military, banners would be adorned a bit more uniformly with one side having the officer's personal arms and the other the regimental emblem or colors.  Of course, there is no rule or standard, even today.  What would the historic arms of a piper in the NWCo's service have looked like.  Well, let's look at some of the pieces of the puzzle.
From the ever questionable Wikipedia…
For a civilian pipe band, its pipe banners would normally feature the crest or coat of arms of a Scottish clan to which the band is affiliated. For military or para-military pipe bands, their banners usually feature different combinations of the following:

The crest of the regiment or police force to which the band belongs
For bands in the British Army, a small Union flag at the corner of the pipe banner
Crests of predecessor regiments that form the present regiment to which the band now belongs
Battle honour crests, for instance, the crest of an elephant denotes a regiment's service at the Battle of Assaye in 1803
The coat of arms of the town and/or city in which the regiment takes residence
Coats of Arms of cities and towns that have granted the regiment the Freedom of the City. That is, the regiment has the right to march in those cities with arms and bayonets fixed.

In addition, pipe bands of Scottish regiments in the British Army usually have designated pipers for each individual company in the regiments. In such case, there will also be company pipe banners that feature each infantry company's badge and these banners are only carried by the companies' pipers. Furthermore, a battalion's Commanding Officer may have his own piper as well, and in this case, there might also be a special pipe banner for this piper. In some regiments, it is customary for officers to donate pipe banners to their regiment's pipers at the time of their retirement.

Pipe banners may also be presented to a pipe band at a special occasion. For instance, it is not uncommon that a sponsor or dignitary would present a special pipe banner to a regiment or police force on its centenary celebration. While pipe banners are not revered in the military as regimental or King's or Queen's colours, they are, however, considered to be important due to their historical values and their associations with authoritative establishments. Some regiments would even keep their pipe banners in their officers messes alongside their colours when the banners are not in use.
From Lord Lyon's Court…
These are banners of personal arms but cut slanted at the top to fit against the big drone and hang down the piper's back. They are used by most Chiefs and Lairds who have personal pipers, and by the Highland regiments whose company commanders' pipe banners are displayed on the regiment's pipes. The correct usage is for the arms to fill the entire banner to its edges, but some regiments have different customs, such as showing the whole achievement including supporters, or the crest alone. Such traditions are now hallowed by the centuries and are permitted. The Pipe Majors of local government or works pipe bands may display their appropriate pipe banner of the corporation or company's arms. A pipe banner should be 30 centimetres wide and the short side should be 45 centimetres long.

Where the pipe banner is for a Clan Chief who is a Peer or a Scottish feudal baron, the pipe banner should have a rounded end extending beyond the 45 centimetre length. Where the banner is for a Clan Chief who is not a Peer or a Scottish feudal baron it should have a split rounded end.

Some regimental pipe banners have traditionally adopted a rounded end and where that has been done in the past it should continue. If there is no such tradition, and for pipe banners in all other cases, the end should be straight rather than rounded.
One published comment on pipe banners sums this up best by stating,
Each regiment has its own rules and customs about when, where and who carries the pipe banners. They are not consecrated like Colours and have no major significance. They are simply attractive decorations of considerable heraldic interest.
Some historical images of pipers with banners. 
Knowing that at least one piper was a personal piper to Simon McTavish, we could assume his banner would contain McTavish arms.   Simon's father bore the arms of McTavish of Garthbeg, but up to 1793, it appears that Simon bore no arms.  In a series of correspondences with Lachlan McTavish, clan chief, Simon shows his interest and the starting of the process of matriculating arms.   Sometime around 1798, Simon, as a favor, purchases the clan seat of Dunardry.  Some histories state that he also took on the mantle of clan chief, but this is not certain.  Either way, I would assume that his personal piper would carry a banner of the Garthbeg arms, which in the 1793 grant by Lord Lyon, John Hooke-Campbell of Bangeston are emblazoned as, "Quarterly 1st & 4th Gyronny of eight Sable and Or 2nd & 3rd Argent a stag's head cabossed Gules attired Or on a chief engrailed Azure a cross crosslet fitchee between two mullets of the third within a bordure Or."  The motto given for in the 1793 grant is Ne Obliviscaris, not the current clan motto of Non Oblitus.
These arms are those that I then chose to use for the banner.  Unlike the current tradition of filling the banner with the arms as is suggested by Lord Lyon, I chose to make the banner in livery colors and with the full achievement painted on it.  This seems to fit with some of the arms shown on banners during the period (Grant Arms in the painting of Laird of Grant's piper as well as the arms shown on Montgomerie's piper).  Painting also deviates from today's norm of embroidery, but painting of banners and flags was fairly common in the period, more than I had earlier thought as I have looked more and more.
As for a "Company Piper," I am not sure there ever was one.  Certainly there were pipers as well as employees that piped, but someone with any official title… I have no proof.  If there was a piper with any sort of official capacity for the company and not an individual, they would likely have a banner (IF they had a banner) with one side being the company arms an the other side being the crest or colors.  I have seen very little history on the arms of the NWCo, but have seen renderings of them.  It is from this that I started creating the next banner. Being that they are differenced from the MacGillivray arms, I assumed the arms dated to the period after McTavish's death (1804) when William McGillivray and brothers Simon and Duncan took control of the company.  On the reverse side of the banner, I chose to use the company colors.  It might be more "correct" to have used the crest, but I thought with the how commonly colors were flown, and with the fact that many other banners utilize flag imagery as well, I chose it as a striking look that would create a lot of interpretive opportunities at reenactment.
After having done the painting, Jeremy shared with me another version of "NWCo Arms" from the Hudson's Bay Company Archives.  The similarities and differences were striking and led me to research more.  Anyway, this research led me to realize that the arms toted as NWCo arms are not that and the other arms (as well as the aforementioned) were probably the personal arms of the McGillivray brothers and/or post-mortem memorial arms granted through their families.  I have more digging to do into this and likely another blog post on my findings.  Meanwhile, this banner will likely not be finished until I decided what to make of it.
Well all said and done, although quite conjectural, these two banners were a fun project that allowed me to pull out paints for the first time in quite awhile. The should make good interpretive props, and when not in use, can hang in my study.
Error Notice (05/02/2018)
As of the above date, I have found more info on both the McTavish arms and the "NorthWest Company" arms.  See the blog post with corrected info and the new banner.