My name is Isaac Walters, and I am an educator in Wisconsin (13+ years in the classroom and now an instructional coach).  I have always been interested in history and the outdoors; and all of this ended up coming together in the reenactment/reconstruction of history.  I started reenacting in 1996 and have done many reenactments around the US and in Canada.  Currently, I am most interested in recreating the lives of the French that inhabited Wisconsin.
I have a BA in Broadfield Social Studies (history emphasis) and a minor in American Indian Studies from UW-Eau Claire.  Also from UW-Eau Claire, I received my MA in US History (with graduate certification in public history, historiography, immigration history, and American Indian history) in December 2009.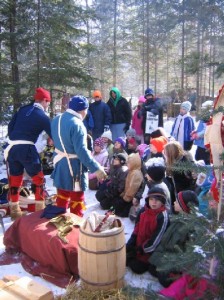 I have worked four seasons as an interpretive park ranger at Grand Portage National Monument  (http://www.nps.gov/grpo/.  Additionally, I have done historic consultation and reproduction for the National Park Service, Minnesota Historical Society, High Noon Productions (a film company and its subsidiary, Great Divide Films ), and a number of other groups and organizations.  I have given lectures and presentations for various school groups and organizations including the North American Voyageur Council and the Wisconsin State Historical Society.  Currently, two of my lectures have appeared on Wisconsin Public Television as a part of the series, University Place.