Posted by
Isaac
on Nov 5, 2012 in
Blog
,
Featured
|
2 comments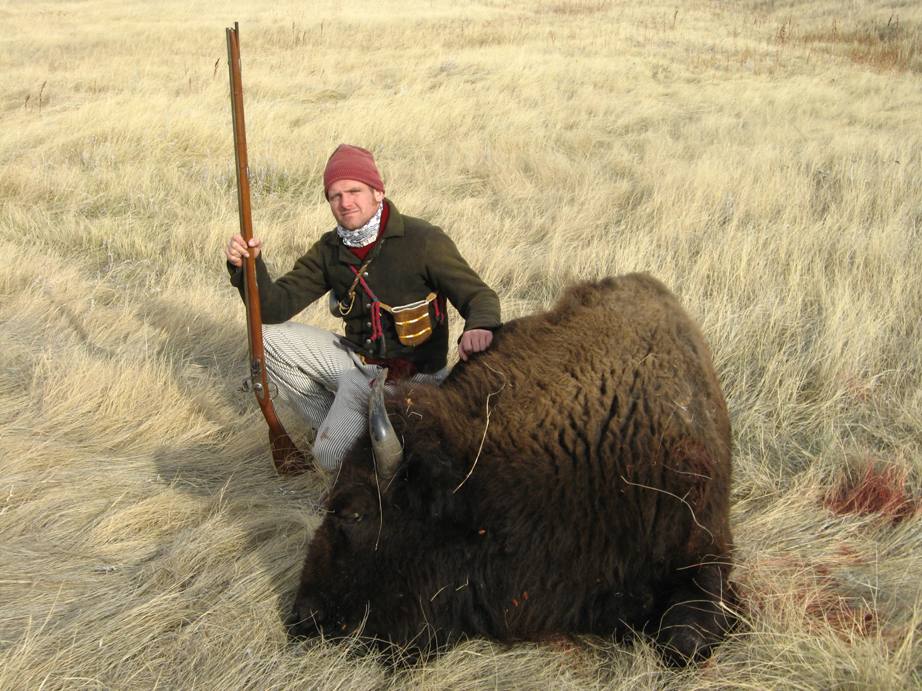 It has always been a dream of mine to hunt Bison with flintlock.  This dream was official added to the bucket list a few years ago as I read journals of men in the Great Lakes fur trade hunting them and explaining their importance to the fur trade (many excerpts of these journals have been mentioned in past posts). Even here in Wisconsin, buffalo were hunted and much more of Wisconsin was prairie than most people think.
Anyway, this past year, bison hunter extraordinaire, Chris Cheney, invited me to go along on this year's bison hunt on the Ft. Belknap Indian Reservation in Montana. Quick note… temps were highs around 32-34 degrees and we had a lot of small flakes of snow in the air. BEAUTIFUL weather for hunting!!!
On the Ft. Belknap rez they have 30,000 acres of prairie that they have their herd on. The herd was established in 1974 and they have been maintaining the bison as a wild herd through their Dept. of Fish and Wildlife. Currently the herd is around 450 animals. These bison are wild and wily critters, and I would never have expected how fast, weary, and wild these are. On the first day of our hunt, a bison was shot with a .54 cal. Sharps and went 6 mi. with both lungs shot. Bison run up to 40 mph sustained for up to 1/4 mile and continue on a lot farther at a slightly lower speed. They can cover some ground. Another bison was shot the first day with a 53-50 twice (through lungs, grazing the heart, and breaking a leg) and still went a mi. before it laid down and was able to be finished. Bison are TOUGH!!!  When I think of bison, I think of modern cattle and never understood some of the old journals I have read about how tough they were.  This experience proved the journals right and my assumptions wrong.
I hunted day two. I used my French fusil (20 ga) with 95-100 gr. of 3Fg, a .595 roundball (chewed up) and wadded with prairie grass. Although I like this load for its historical correctness, I have also found it is one of the most accurate loads I have shot.  We first set up in the morning on a small draw where we thought the main herd would head through. Unfortunately they did not and we had to move to the end of Snake Butte.
On Snake Butte, the main herd eventually showed and the noise of hooves and snorting buffalo was exhilarating.  Patiently we waited for an appropriate cow to break from the herd close enough to get a shot without worrying about pass-through and hitting another. Additionally, we were trying to set up a second shot on another bison for another hunter, Mike, that was with me; using a bow.  My first shot was at a bison cow walking at 50 yds. while in an odd position. I hit behind the shoulder a bit further back than I would like (about 6″) and got liver and lung. The herd stampeded off down the butte (after allowing Mike a beautiful 2 shots with the bow).
I got a second shot a mile or two later, after the very injured cow broke from the main herd.  The shot was 70 yds. and the bison was running (video of this shot). I hit 2 in. from my last shot, ripping up more vitals.
We had a long chase, a few sneak ups, and a lot more with the cow taking a total of 5 shots she went down (First 2 through liver, speen, and lung, 1, through the hump and stopped RIGHT at the spine, and 2 went beautifully through the shoulder blade, ribs, and lungs).
By the way… a quick addition… the French down the Mississippi River from me, in areas like Ft. Des Chartres and Kaskaskia, were also hunting a TON of buffalo for market and home consumption.  Some of the "longhunters" hunting for Baynton, Wharton, and Morgan were Frenchies in stripped trousers and tuques.  Nathan Kobuck, I KNOW YOU ARE READING THIS, you need to write an article on these guys.  Heck, I will help co-write it if I need!