Posted by
Isaac
on Nov 15, 2012 in
Blog
,
Featured
|
2 comments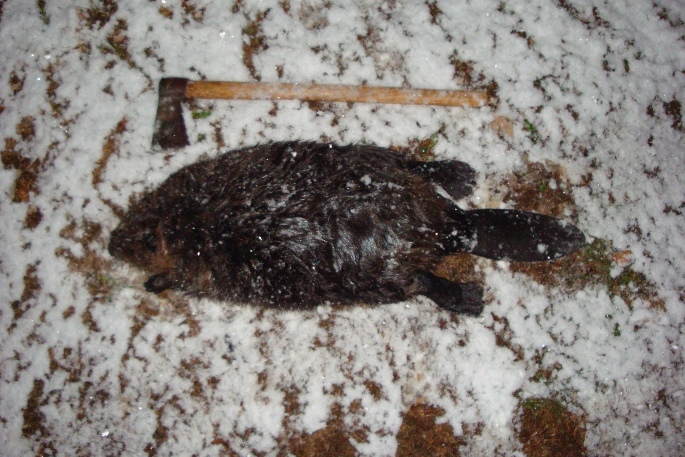 Traps are not cheap, and proper forged historic traps are down-right expensive. Few guys are making historic traps, and cost of materials and the labor to make them is high. Additionally, my trap-maker, Allen Harrison, has been fighting fire bans in all this dry weather and has been unable to forge. Anyway, this has led us to many discussions on ways a person can get together some traps in a reasonably inexpensive way to run a more historical trap line.
For me, I would like to run a historic trapping camp with some friends; wearing historic clothes, using the bark canoe, using historic traps, and doing it "right." Anyway, to do this, we will need a lot more traps than I can easily gather anytime soon (constrained by time and MONEY). I know that some reenactors have been able to convert modern traps to historic, but I have not been fully satisfied with what I have seen. The Poison River Party of the AMM (American Mountian Men) put together and article on converting traps called Artifaking (written by Allen Hall) that can be seen on their website. They make some modifications to a #5 Bridger. Unfortunately, Bridgers and many other modern double long spring traps just do not quite have the look and lines of the historic traps. Then I got to thinking…
I was looking at some old #4 Victor double longsprings. These are no longer being made but are not that difficult or expensive to find. They are a little better built and a little closer to historic traps I have seen than most modern longsprings. They are not perfect in many ways, but I think we can work with them. Ideally, we would all have perfect, forged, historic traps… but money and lack of supply gets in the way. I then contacted Allen Harrison to have yet another trap and trapping discussion and this led to MANY discussions (some still ongoing) about how to do this and how to do this better. Allen ended up putting together a nice tutorial for the "do-it-yourselfer." I have posted this to my research and articles section here.
A couple comments on the conversion that I will add from our conversations…
1.) In the tutorial, he attaches a new pan two different ways. The first way is quicker and easier for the DIY person with minimal tools and skills. The second was evolved out of a mistake, but looks more period correct from top AND bottom. It is, however, a bit more difficult.
2.) On slide 4, Allen has the DYIer keeping the swivel. This is not a historic swivel, but swivels are VERY important for the trap to be effective and humane. There are other options for swivels and chain attachment that are more historical, but none are so easy for the DIYer. For a more advanced project, there are many options of chain attachment and swivels that we will not go into but persuade folks in trying. Likely, I will post more on this in a future blog as our conversations continue and we experiment on a few more traps.
3.) For chain options, on slide 29, Allen uses a junk store trammel chain. This, especially when the welds are filed down, looks very good and is a huge improvement from a modern factory chain. This is likely the cheapest and easiest option for the DIYer. For a better and more correct chain, I would suggest talking to any blacksmith of skill. Have a proper historic forged chain made (perhaps with proper swivels) that can be attached. This will be a bit more costly, but in the end; this trap will still be cheaper than a completely blacksmith made historic trap.
4.) Finally, when all is said and done… rust up the trap a bit and dunk it into your favorite dye pot of walnuts or trap dye. Once this is done and it has been used a bit, all the new parts will match into the old Victor parts, and you will have a reasonable historic looking (and working) trap.