Posted by
Isaac
on Oct 8, 2016 in
Blog
,
Featured
|
2 comments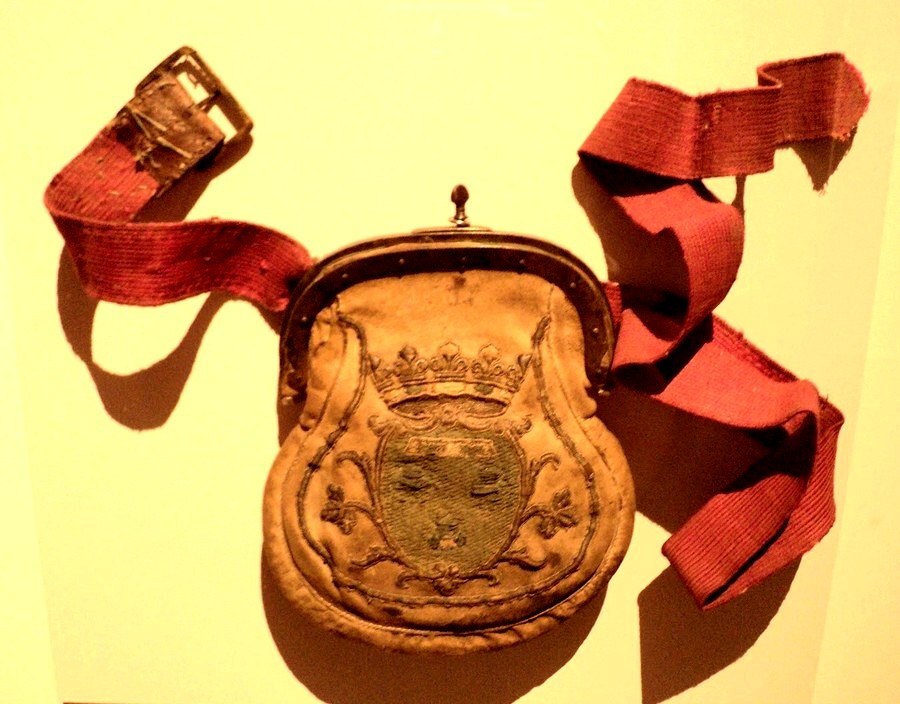 The topic of these French hunting bags recently came up elsewhere on the internet, and it reminded me that I have been planning on posting this article written by Eric Bizet.  Eric is a reenactor in France that follows (or at least did) my blog.  Since, we have chatted numerous times via email.  In 2014, Eric sent me the following write up he did on a particular type of bag.  I am posting his quick English translation of the article here verbatim.  The images in the bottom are also those he sent me with it.  Thanks to Eric for sharing his research and allowing me to post it here.
French style Hunting bag or a grand ma purse?
Here is I warn, that I am going to throw a pavement in the big puddle of the certainties.
Recently I had a project to make a new hunting bag.  As I represent a Frenchman living in New France between 1740, 1760 period I would have been able to be incorporated in local militia and of course I am supposed have musket.  As all militia man I am also must be able to shoot six rounds.  I must to carry bullets, extra flints and of course some minimums tools for maintenance on my weapon.  For everybody it is evident: it is a shoulder leather bag and the famous powder horn.*  I tried to collect texts and iconographies covering the period of New France about hunting bags. Nothing in texts. In paintings and drawings not better …
Should I give up? I decided to go deep in my investigations.
By pushing the reflection further, I collided has a problem which I had not suspected.  This problem comes from our modern eye, which is for the most part of us deformed by a modern vision of character. It is very well anchored in our subconscious.  We have all the vision of the trapper with its hunting bag and powder horn over his shoulder which travels woods with Indians to avenge the widow and the orphan persecuted by the vile red coats or other hostile tribes.  Here we see the highly-rated perverse view of the Hollywood movies which rocked our childhood.  But what about the reality through period documents?  How did they live theses civilians of New France when they were incorporate in militia?
Until recently I knew that a very simple leather hunting bag was the key.  I wanted to be sure before to make a new bag .I collected all the previous paintings of the period of any countries before 1761 representing hunters and its equipment.  In these paintings there is a big diversity of bags.  There were leather hunting bags with shoulder belt, waist belt bag, or simple fabric bag all seemed to be historically correct.  Then, I had I keep that those who were French and reducing between the period 1730-60  How was my surprise these bags as anything with the idea that we were made, it was even the opposite of the hunting bag.  With their closure system it reminded me when I was a child with my grandmother at the market.  Yes it was indeed it; the French hunting bag of the first half of the 18e century looked like has a grand ma  big purse .
What a hell! It looked like nothing!!!  Later In cold head, I consulted the famous encyclopedia Diderot d' Alembert I noticed that drawings matched.  We see a bag of this kind.  By observing closer we notice that a great deal of documents which one taken and resumed as references leave every even image. They are all English or American documents.  Unfortunately for us they are for the greater part posterior of the period which we represent.  It is too easy to say that: what English people used the French people used too.  It would take a too simple shortcut with the real history.  I like to take this example Peter Kalm  who visit the New England in 1748,note that the English people make big consumption of potatoes while the French people feel reluctant has to consume them quits even has to suffer from famine …
We see here the proof of the identity of the period.
Did the militiamen of the  new France  period did carry  belt hunting bag of the type that we see on period paintings?  Certainly, yes or close copies more or less of good qualities.  Did they carry shoulder leather hunting bag as we see everywhere on meetings? Maybe but less in quantity than the previous ones and we have no it of proofs has this day.
So my project which at the beginning was only to make a new hunting bag taught me a thing at least.  In historical search we must to abstract what we think to know and back to fundamentals; so, the contemporary paintings about what we want to portrait.
*for period texts on powder horns See « Voyages de Lebeau  1738 (voyage curieux et nouveau parmi les sauvages de l'Amérique septentrionale) »  the Journeys of Lebeau in 1738 (curious and new journey among savage of northern America)   When he visits an Indian sanctuary Lebeau declare by seeing offerings «we found some powder horns made in oxen horns. "
Eric