Posted by
Isaac
on Jul 11, 2017 in
Blog
,
Featured
,
Odd Stuff
|
2 comments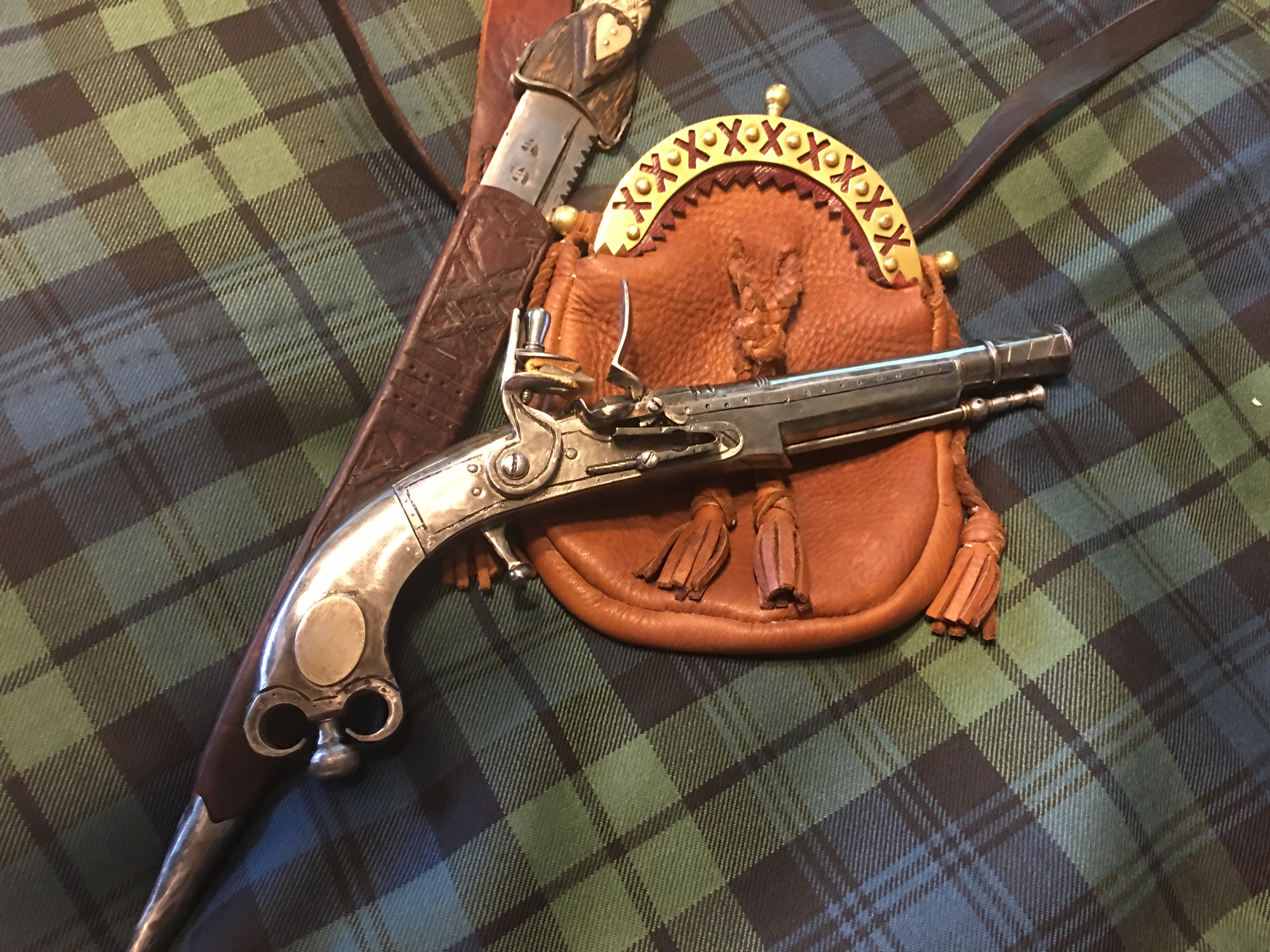 In 2013, I picked up a French pistol that I loved.  Within a year, I sold it off in order to afford a trade gun that had more use to me.  Ever since, I have missed having a flintlock pistol.  
With an interest in all things Highland and Scottish and a desire for a flintlock pistol, the idea of a Highland steel pistol has been quite appealing.  Knowing that many clerks and gentlemen in the NorthWest Company had pistols (including William McGillivray having an engraved steel pistol), I thought a Scottish pistol might be a fun addition to my kit, especially now that I am doing more as a Scottish clerk and am piping.  
I have been watching online for a used reproduction pistol of this style for a long time with no real luck.  Recently, I had an opportunity to purchase one at a very good price.  Like most of the steel pistols on the market, it is a somewhat poor reproduction made overseas.  The trigger shape is rather wrong, and the "rams horns" on the handle/butt are excessively thick.  Additionally, these reproduction pistols are plain and are not engraved.  Most extant pistols of this type are quite ornate with engraving.  Military pistols exist and were very plain.  There are also a few that have very little engraving, but the norm would be to see at least some engraving.  
To improve my pistol, I made a few basic changes.  My hope was to both make it a bit more correct but also to personalize it.  I reshaped the trigger, thinned out the rams horns, and did some slight graving.  I additionally worked down the finish and gave it a light blueing.  My plan is to slowly polish it back up with use and cleanings over time.  I also hope to eventually have my crest and arms engraved nicely onto the plaque/cartouche that is on both sides of the handle.  I am currently discussing this with a couple of folks that can do fine engraving.
Poor quality video of the pistol being fired…