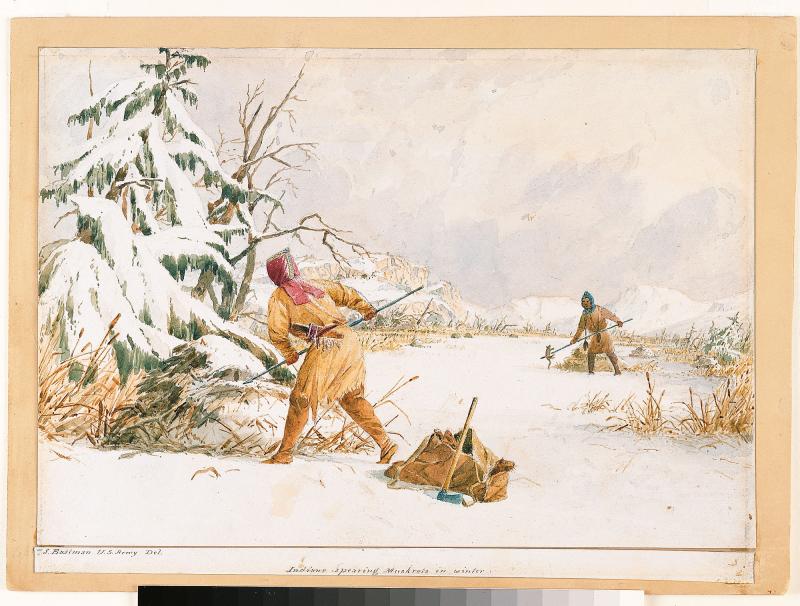 Winter seems to be coming to an end but is not giving up too soon.  I have been ridiculously busy and therefore am delinquent in posting any blogs.  One thing that I have been doing as a father of two young daughters through the busy winter is running to ballet lessons.  Our youngest is taking ballet and every Saturday we have been heading over, across the Mississippi River to Winona, MN for lessons.  I can not take that drive without thinking of the beautiful landscape and the history connected with it (sort of a plague I have with anywhere I go).  This is an area rich in history and prehistory.
This fall, while chatting with my friend, Riley Snyder, he mentioned the Seth Eastman painting of muskrats being speared and pointed out a spot that he thought it may have been.  Although the landscape has had its share of changes, and so many of the bluffs are similar; I would have to agree that it is a likely spot for where the painting was (if even sketched on the spot).  The view appears to be facing westward from the WI side over to MN.  It is a marshy area where there are muskrats on the Upper Mississippi River, likely a backwater or marsh.
The area near  Marshland, WI is a perfect possibility for this.  Although many of today's backwaters and marshes are larger than historically due to the rising of the river (locks and dams put in to make it more navigable), this is a spot that would have historically been marshland (as the name implies).  It is also near where the Trempealeau River comes through and swings down into the Mississippi; making it prime for marshiness and furred critters.  Anyway, on the way to ballet the other week, I shot a couple photos across toward the bluffs.  They are not the most ideal of photos, especially having been taken from the road (on an overcast wintry day) and not as close to the river as where this scene may have been sketched/painted.